Melissa Hayden (1923 - 2006)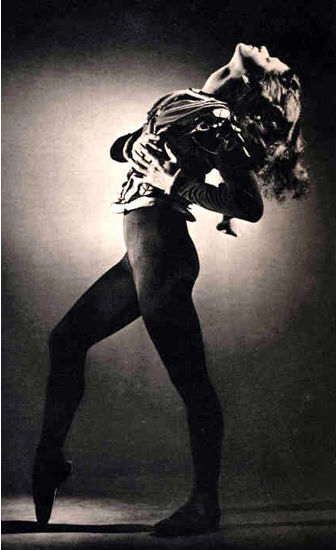 Melissa Hayden, originally Mildred Herman, and known to her friends as "Milly," was born in Toronto, Canada. She started her dancing career in Boris Volkoff's Canadian Ballet.
After a year as a member of the corps de ballet at New York's Radio City Music Hall, Hayden joined Ballet Theatre (now American Ballet Theatre) in 1945. When Ballet Theatre was on a forced sabbatical (1948), she joined Ballet Alicia Alonso in South America. While working with the Alonso company she met the guest artist Nicholas Magallanes, who encouraged her to leave that company and audition for George Balanchine. At first Hayden didn't want to leave her job, but the situation in South America became unbearable and she returned to New York City to dance with the New York City Ballet in 1950.
In 1953 Hayden left NYCB because of a disagreement with the company. She then danced the ballerina role in Charlie Chaplin's film Limelight, and re-joined Ballet Theatre the same year. She and Balanchine eventually resolved their problems, and she returned to NYCB, where she remained until 1973.
Hayden created roles in Jerome Robbins' Age of Anxiety (1950), The Pied Piper (1952), and In the Night (1970), Frederick Ashton's Illuminations (1950), Todd Bolender's The Miraculous Mandarin (1951), George Balanchine's Caracole (1952), Valse Fantaisie (1953), Divertimento No. 15 (1956), Agon (1957), Stars and Stripes (1958), Episodes (1959), Liebeslieder Walzer (1960), A Midsummer Night's Dream (1962), Brahms-Schoenberg Quartet (1966), Glinkiana (1966), and Cortège Hongrois (1973).
Lincoln Kirstein wrote about Hayden saying, "Of all the dancers with whom I've had the honor and pleasure of working, Melissa Hayden has been the strongest and lasted longest. . . . Melissa has been the nearest thing to a "star" in our starless company. We have never encouraged stardom on programs, posters, or publicity; managers can't make stars; the public does...Melissa Hayden was never a Balanchine dancer, but she supported his repertory for over twenty years...Milly must have been doing something right."
Clive Barnes has said, "Miss Hayden has the loveliest arms in American ballet...She has survived and survived and, more pertinently, she has gotten better and better. New York City Ballet is a company dominated by youth -- but Melissa Hayden is its greatest dancer."
As Hayden got older, she found that many younger dancers were getting all the new ballets and she was destined only to repeat her old roles. She questioned her feelings on these conditions, "Am I a lesser dancer, can I not keep up with everybody? But since I'm still dancing the rep I have to assume that I am still capable. I'm not in any new pieces, but it's not my lack of ability, it's just that Mr. Balanchine's concentration and direction have taken another way and that can't include me. And I'm very accepting of that."
After leaving New York City Ballet, Hayden taught for a number of years at Skidmore College, before opening her own school in New York City. The difficult problems that plague many studio owners caused her to give up her school and join the faculty at the North Carolina School of the Arts in Winston-Salem, NC, where she remained for the rest of her life. In 1961 she was presented with the Dance Magazine Award, and in 1973 the Handel Medallion of the City of New York was presented to her.
Hayden passed away on August 8, 2006 at her home in Winston-Salem, NC. The cause of death was pancreatic cancer.
(First published August 1998, updated August 2006)