Nana Gollner (1920-1980)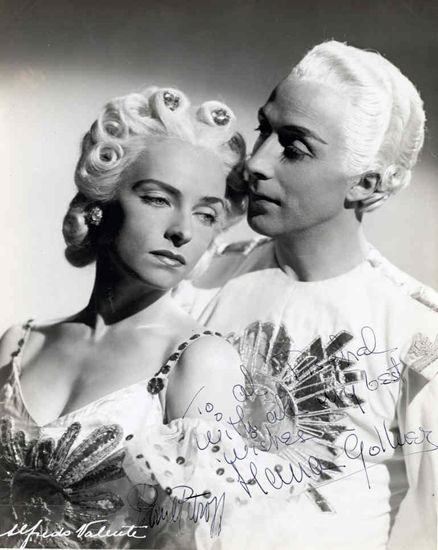 Before I write about these this very famous dancer, I want to tell a story showing that even Dance Magazine is not always aware of important events in the dance world. After Nana Gollner's death I waited two or three months before I called Dance Magazine to find out why there had not been an obituary on her. The staff member asked me who she was, and in my caustic manner I said, "Maybe you are in the wrong profession, if you don't know. She was the first modern American ballerina to achieve the rank of prima ballerina in a European ballet company."
When my good friend Paul Coates spoke of Gollner he said, "You can take the girl out of Texas, but you can't take Texas out of the girl." No matter how famous Gollner became she was always the girl next door. When other dancers would chide her for not being more serious, her reply was, "Only the Gods are born on Olympus, so how serious can a mortal be who has a husband, a son, a career and a Siamese cat?"
My first encounter with Gollner was at Ballet Arts School in New York City. She was wearing a belted suede coat and she fell next to me on the couch and started talking to me as if she had known me all of her life. She always had a twinkle in her green-gray eyes and was as beautiful in person as she was on stage. As I sat there, my heart rate increased by 100 beats just at the thought of sitting next to Nana Gollner and chit chatting. During this time she started teaching ballet classes in New York and I became a regular student and eventually a friend.
At the age of four Nana had had a severe attack of polio, which left her with a club foot. Her cousin, a doctor, suggested that instead of an operation, physical therapy should be tried. Part of the therapy was walking in the sand, and as Gollner got stronger he also thought that daily ballet lessons would help. Little Nana took to the dancing lessons with glee. By the time she was eight her orthopedic boots, that she had worn for so long, were discarded.
In 1928 the family moved from Texas to California, where Nana continued her ballet classes with Theodore Kosloff, the great Moscow-trained dancer. In 1934 Max Reinhardt invited her to dance in his production of A Midsummer Night's Dream, and she danced with David Lichine in the film Spring Night. Nana then went to Europe and joined Colonel de Basil's Ballet Russe for their Australian tour. De Basil changed her name to Nina Golovina, which she disliked. When she left the company to join Rene Blum's Ballet Russe de Monte Carlo in 1936, she danced under her own name since she was very proud to be an American. While with Blum's company Mikhail Fokine created four ballets for her. Nana's many partners included André Eglevsky, Mikhail Panieff and Igor Youskevitch.
Nana became homesick for her beloved America and stopped dancing for 18 months, during which period she learned to fly her own plane. She was lured back into dance in 1939 for the first season of Ballet Theatre (now known as American Ballet Theatre).
In 1942, while on tour in Mexico, she married fellow dancer Paul Petroff. Soon, they both rejoined de Basil's company. Nana and Paul were gypsies of the ballet, and performed with many companies. The one ballet that Gollner wanted to do, but never had the chance, was Petipa's full length Esmeralda. Before her early retirement, Gollner was also prima ballerina of the Metropolitan Opera Ballet.
(First published December 1998)