Andre Eglevsky (1917 - 1977)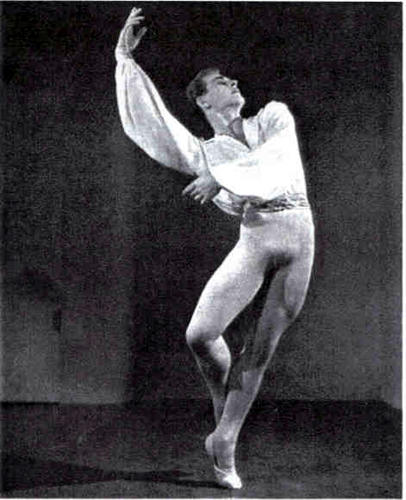 I was in two shows with André Eglevsky, Bohemian Girl and The Lost Waltz, at the Pittsburgh Civic Light Opera Company in 1951. It was a thrilling honor when I was taken out of the corps de ballet to dance with him. At first Eglevsky did not want to dance with me because I was taller than he was, and I thought my chance to dance with my idol was now out of the question. But our choreographer, Theodor Adolphus, assured Eglevsky that when we were onstage together the audience would not look at me. You see, Eglevsky could turn like a top and his ballon was phenomenal. Bless Teddy's heart, because he talked Eglevsky into consenting. Fortunately I didn't have to compete with him. Eglevsky was good and he knew it, but he was without temperament and had a great sense of humor.
Eglevsky and I became good friends, and when the conductor was having trouble with the tempo in a gypsy dance (the conductor would wait for Eglevsky to land before he would play the note, and Eglevsky would wait for the note before he would land) Eglevsky, instead of throwing a temper tantrum, suggested that because I had a tambourine in my hand I could keep the rhythm. This was a responsibility I would gladly have given up.

André Eglevsky was born in Moscow, but moved as a youth to France. He was educated in a French high school, and studied ballet with Maria Nevelskaya in Nice; Lubov Egorova, Mathilde Kchessinska, Alexandre Volinine and Leon Woicikowski in Paris; Nicholas Legat in London; and the School of American Ballet in New York. Eglevsky had a real "ballet mother" who chaperoned him all the time. He joined Col. de Basil's Ballet Russe at the age of fourteen, and six months later danced leading roles in Swan Lake, Les Sylphides, Les Présages and many more ballets. In 1935 he became premier danseur, along with Igor Youskevitch, in Ballet Russe de Leon Woicikowski. In 1936 he joined René Blum's Ballet Russe de Monte Carlo.
Eglevsky came to the United States in 1937 and danced at Radio City Music Hall and in the Broadway musical, Great Lady. In 1937 and 1938 he was premier danseur of George Balanchine's American Ballet. He became an American citizen before joining Ballet Russe de Monte Carlo in 1939, where he remained until 1942. From 1942 to 1946 he was a star of Ballet Theatre (nowAmerican Ballet Theatre) dancing also as a guest star in 1944 and 1945 with Leonide Massine's Ballet Russe Highlights. Eglevsky joined the Original Ballet Russe, directed by Col. de Basil, in 1946 and in 1947 became premier danseur of the Grand Ballet de Monte Carlo, directed by Marquis George de Cuevas. From 1951 to 1958 he danced with the New York City Ballet as one of the principals.
After retiring from the New York City Ballet, Eglevsky and his wife, the ballerina Leda Anchutina Eglevsky, whom he had married in the late 1930's, opened a school in Massapequa, Long Island, and formed the Eglevsky Ballet Company. The company has survived to the present without the founders.
André Eglevsky created roles in Fokine's L'Epreuve d'amour and Don Juan in 1936; Lichine's Helen of Troy in 1942; his own Sentimental Colloquy in 1944; Balanchine's Pas de Trois, Capriccio Brillante and Swan Lake in 1951; Caracole, Scotch Symphony, and Harlequinade Pas de Deux in 1952; Western Symphony and Pas de Dix in 1954; and Waltz Scherzo in 1958.
Eglevsky partnered every famous ballerina from Vera Nemtchinova in the early 1930's to Maria Tallchief in the late 1950's.
One of the many things I admired about Eglevsky was what a good father he was to his daughter and two sons. He never talked down to them, but treated them respectfully on their own level. Shortly after I stopped performing I started teaching children and used Eglevsky's technique as a model. Many of those "babies," now pushing 50, still keep in contact with me. Thanks André!
(First published April 1999)