Fanny Cerrito (1817-1909)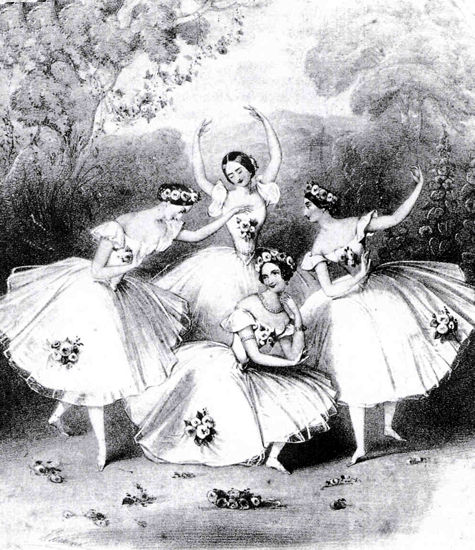 I guess in any given period of time there will be those whom the history books champion, but others who are not mentioned, even if they were just as famous in their time. Who, for example, who was Nana Gollner or John Kriza? In the issues to come I will take up dancers who were famous, but of whom we know very little now, because Marie Taglioni and Fanny Elssler dominated the ballet scene in the 19th century.
Fanny Cerrito, whose fame was equal to that of Marie Taglioni, was born in Italy in 1817. She made her debut at the -Teatro San Carlo in 1832. After touring Italy she accepted an 18 month contract to the post of ballerina at Kaertnerthor Theatre. She became prima ballerina at the famous La Scala between the years of 1838 to 1840. Her work with Carlo Blasis improved her technique and performing ability.
In 1843 Taglioni and Cerrito danced on the same progran in Milan. This incident caused such excitement that the city divided itself between the two great ballerinas. While in Milan Fanny began her collaboration with Jules Perrot, during which they choreographed -Ondine.
In 1843, Queen Victoria requested that the two great rivals Fanny Cerrito and Fanny Elssler perform a pas de deux. The performance was described as extraordinary. Cerrito and Arthur Saint-Leon formed a partnership, married, and toured Europe for six years. Unfortunately, the combination of two tremendous egos was too volatile to last, and in 1851 they went their separate ways. Cerrito had a daughter, Mathilde, in 1853--the result of a liaison with a Spanish nobleman.
Fanny's engagement in St. Petersburg was not a success; at the time native Russian dancers were in vogue, and Cerrito was no longer in her prime.
In 1857 she returned to England and gave her farewell performance at the Lyceum. She retired to raise her daughter in peace and quiet. In 1909 she died at the age of 92. That was the year Diaghilev's Ballet Russes was opening a new chapter in the history of dance.
(First published April 1993)