Edward Caton (1900-1981)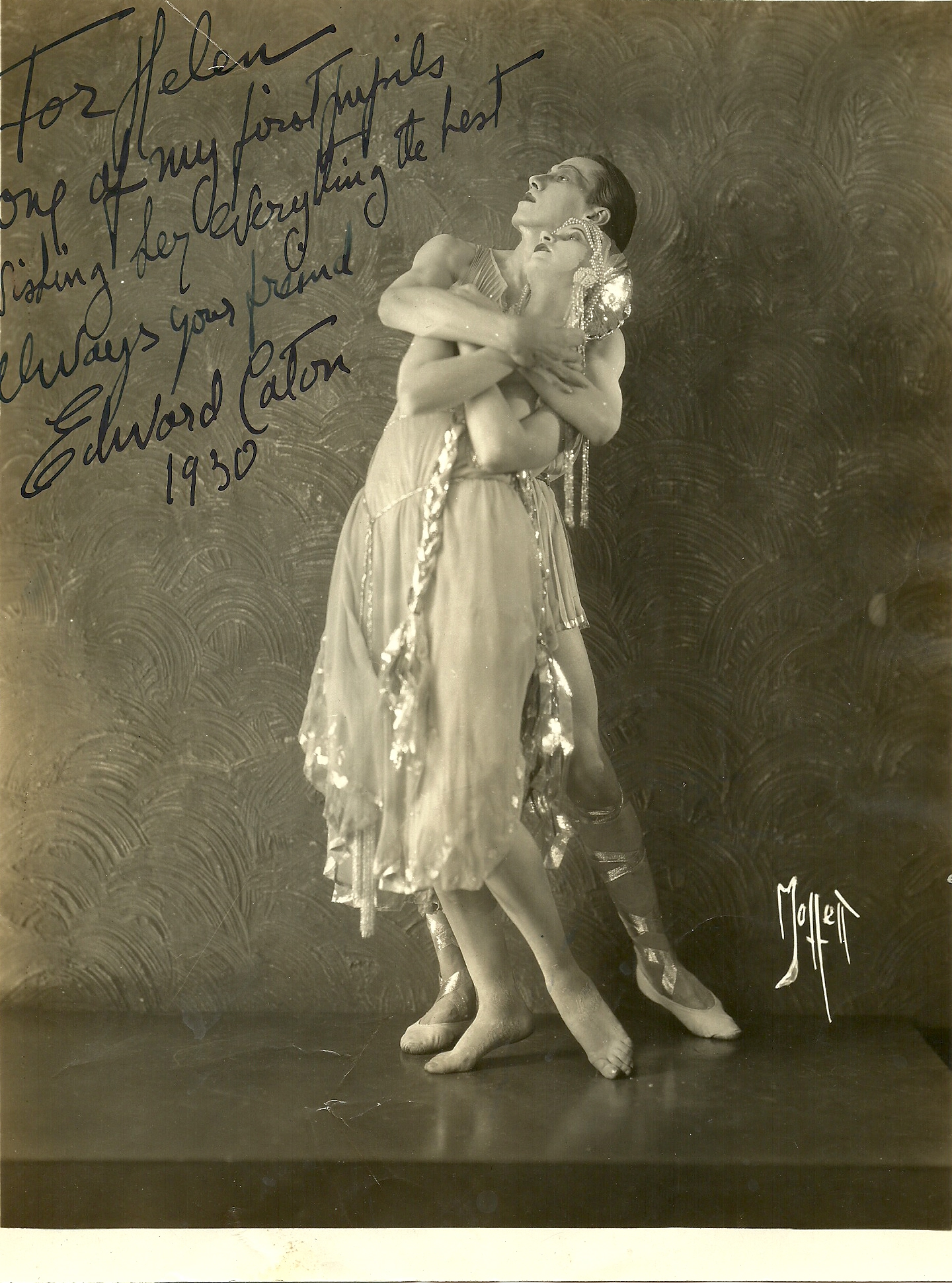 Every morning after my second cup of coffee I read the New York Times' obituary. The day I read that Edward Caton had died in Pittsburgh brought tears to my eyes, but also many memories of the relationship I had with this teacher and mentor. The memories go back to 1949 when I came to New York to continue my training, after three years at the San Francisco School of Ballet.
At that time there were only a handful of great ballet teachers, in New York City and most of them taught at Studio 61 in Carnegie Hall. One of the most picturesque was Edward Caton. He was called "Mr. Caton" in class and "Eddy" out of it. He was a tall man who slouched like a debutante in his hush puppies. Mr. Caton was an American born in St. Petersburg. His parents were part of the American diplomatic corps, and he had been educated and trained at the Maryinsky Ballet School in Russia. After the Russian revolution he escaped via Siberia and later joined Anna Pavlova's company.
Mr. Caton's classes were always filled to capacity with the biggest stars in the ballet world. Mr. Caton was so respected that he could say what he wanted about anyone and did. His language was that of a stevedore more than a teacher of ballet. Richard Thomas told me that while they both were teaching at Joffrey's Ballet School, Robert Joffrey had a faculty meeting to make sure that every one taught his style. Mr. Caton walked out of the meeting muttering, "No little whippersnapper is going to tell me how to teach ballet!" I remember overhearing him defend another teacher: " Margaret Craske is the only teacher--I'm just a bag of s--t." I must say those of us who heard this were not taken aback by his language.
I have always put my teachers on a high pedestal. Many of them didn't want that but the problem was mine. One time Eddy went out with a group of the boy students. Not only did Mr. Caton know every important person in the dance world, but he knew where their skeletons were buried. He instigated us to make crank calls to these important people and mention things that they did not think anyone knew. I discovered in some ways he was younger than we were. Back in class the next day he was back on that pedestal.
After daily classes Mr. Caton began to get interested in my ability as a dancer. He told a friend of mine: "I like the way Dick dances--he knows what he is doing." Over the next few years Mr. Caton tried to get me work in some of the major ballet companies. After working in and out of New York for awhile, I decided I wanted to teach. So for a long time I was busy establishing myself as a teacher and opening my own school in Brooklyn. At the same time Mr. Caton was teaching all over the world. I heard that Ballet Theatre had opened a school and that Mr. Caton was teaching there. I had been out of the mainstream for awhile, and very few people knew who I was.
I finally worked out a schedule where I could take Mr. Caton's class. He seemed very happy to see me, but I wasn't sure he would even remember me. Every time he would walk by me at the barre, he would stop and ask what I had been doing, he was very interested in the fact that I had opened a school. After the barre Mr. Caton placed every member of the class in the position that he wanted, but somehow he overlooked me. After everyone was placed, he noticed I was still in the back of the room. "Dick, I am sorry." he said, "Would you please come down here and show these f--ks how to dance." I suddenly found myself sandwiched between Igor Youskevitch and Leon Danielian, two of the most important dancers of that time. I thought to myself, I would be better at showing these dancers how to f--k.
Mr. Caton may no longer be with us, but thousands of dancers will keep him alive in their heart. My students have heard hundreds of Caton stories and will until I become a story for them to tell.