Ruthanna Boris (1918 - 2007)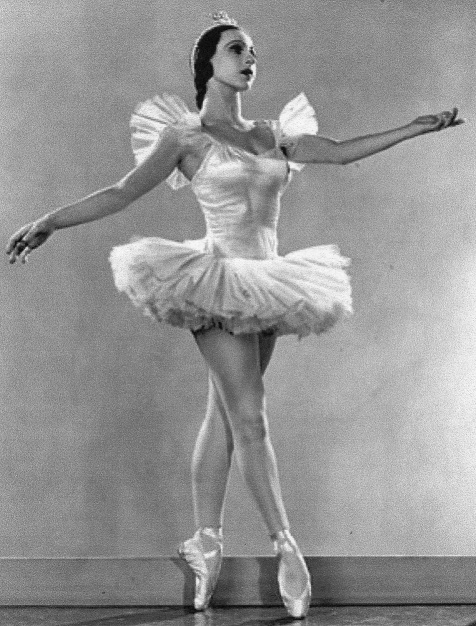 Ruthanna Boris was born in Brooklyn, New York in 1918 and attended The Professional Children School - a school designed for children interested in the theater. The school allowed the students to attend academic classes while studying acting, dance and etc. Making it possible for them to audition and perform in the theater.
Ruthanna started her dance training at the Metropolitan Opera Ballet School; where her teachers were Helene Veola and Leon Fokine, Michael Fokine's nephew. She was one of the first students at the School of American Ballet, and in 1935 she was a member of Balanchine's American Ballet. That same year, she was also a member of Ballet Caravan -- the company created by Lincoln Kirsten to encourage new choreographers.
Ruthanna was a member of the Metropolitan Opera Ballet from 1937 to 1942. She was a soloist in Carmen, Lake, Aida, Tannhauser, Orpheo and many more.
She joined Ballet Russe de Monte Carlo As a soloist in 1943, later to become one of the Ballet Russe's ballerinas. While with the company, she married fellow dancer Frank Hobi. He died in 1967.
Like many dancers of the time, she danced in a number of Broadway shows. She also became interested in becoming a choreographer for the Ballet Russe. Her first ballets met with great success. To spoof ballet, which was turning toward virtuosity, she equated ballet dancers with circus performers, She choreographed Cirque de Deux. John Martin, noted dance critic, said, "Miss Boris set out to convey her amusement to the rest of us -- and succeeded." Another ballet Quelques Fleurs was sponsored by the Houbigant perfume company to promote the perfume of the same name.
With her husband Frank Hobi, Ruthanna Boris led their own touring company from 1954 to 1956, and directed the Royal Winnipeg Ballet in 1956 and 57. She was on the Board of Directors for AGMA, the union for opera singers and ballet dancers.
Her two most successful ballets were Cakewalk for the New York City Ballet and Cirque de Deux. One of her other choreographing jobs was the Two On the Aisle starring Delores Gray and Bert Lahr. A small ballet about a Dog Show starred French ballerina Colette Marchand.
Ruthanna's dance career ended prematurely in 1950 because of a hip ailment, and she then turned to teaching. She was on the dance faculty of the University of Washington in Seattle from 1965 to 1983. For the Houston Ballet Ms. Boris used Scott Joplin's music to choreograph Ragtime in 1975.
Because of her own hip problem, she became interested in therapeutic movement. Ms. Boris studied psychology and therapy at the University of Washington. She was on the board of the Seattle Psychoanalytic Institute from 1975 to 1982. Later moving to The San Francisco Bay Area, she became president and executive director of the Center of Dance Development and Research in Albany, California in 1986. She was truly a power in the dance world.
Ms. Boris passed away on January 5, 2007 at an assisted-living facility in El Cerrito, CA.
(First published February 7, 2007)