Irina Baronova (1919 - 2008)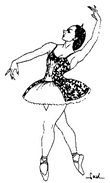 Irina Baronova was one of the three famous "Baby Ballerinas" along with Tatiana Riabouchinska and Tamara Toumanova. She was born in Petrograd in 1919 and moved to Paris during childhood. There she studied with Olga Preobrajenska and made her debut with the Paris Opera in 1930. George Balanchine noticed Irina as he watched classes and engaged her at age 13 for the Ballets Russes de Monte Carlo in 1932.
She created roles in Leonide Massine's Les Présages, Jeux d'enfants, Beau Danube, and Bronislava Nijinska's Les cent baisers. In 1940 she joined Ballet Theatre and she married Gerry Sevastianov, one of the directors. In 1946, Baronova married Cecil Tennant with whom she had three children, Victoria, Irina and Robert.
Baronova also appeared in films and musicals, was a guest artist with the Original Ballet Russe and was an active member of the Royal Academy of Dancing. She wrote an article called "Dancing for de Basil" for About the House (a magazine about the Royal Opera House at Covent Garden) in 1964. In 1974, she returned to ballet as a teacher and consultant. In 2005, she wrote her autobiography, Irina: Ballet, Life and Love. She passed away at her home in Australia on June 28, 2008 at the age of 89. (DancerUniverse obituary)
(First published March 1998)