Alicia Alonso (1921 - 2019)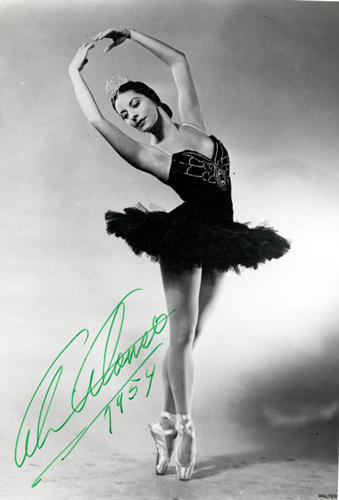 There have been very few times in my life that I have seen a ballet that I would describe as a definitive performance. I agreed with the late John Martin, dance critic of The New York Times from 1927 to 1962, that Alicia Alonso and Igor Youskevitch performed a perfect Swan Lake. The year I can't remember, but it was while they were still with Ballet Theatre (now American Ballet Theatre.)
Alicia Ernestina de la Caridad dei Cobre Martinez Hoya was born in Havana in 1921. She started her ballet studies at Sociedad Pro-Arte Musical in Havana with Sophia Fedorova and danced in Cuba under the name of Alicia Martinez. After marrying Fernando Alonso in her teens she used his name. When Alicia arrived in New York City she studied with Anatole Vilzak and Ludmilla Shollar at the School of American Ballet, and later with Vera Volkova in London.
In New York Alonso danced in the musicals Great Lady in 1938 and Stars in Your Eyes in 1939. She was a soloist with Ballet Caravan in 1939 and 1940, and in 1941 joined Ballet Theatre, but from time to time returned to Cuba as ballerina of the Teatro Pro-Arte in Havana. From 1941 to 1943 Teatro Pro Arte became known as the Alicia Alonso Ballet Company. In 1943 Alonso returned to Ballet Theatre as a leading ballerina. At that time Cuba was an ally of the United States, so travel between the two countries was never a problem.
While with Ballet Theatre Alonso created a role in Antony Tudor's Undertow (1943), and George Balanchine's Theme and Variations (1947). Because of Nora Kaye's illness, Alonso danced the premier of Agnes de Mille's Fall River Legend in 1948. She appeared with Ballet Theatre when the company performed at Covent Garden in 1946. Her partnership with Igor Youskevitch was one of the great teams, like Vernon and Irene Castle, Ginger Rodgers and Fred Astaire, and Frederic Franklin and Alexandra Danilova. Together with Youskevitch, Alonso joined Ballet Russe de Monte Carlo in 1955.
Alicia Alonso was afflicted throughout her career with an eye defect, and is partially blind. Her partners always had to be in the exact place she expected them to be, and she used lights in different parts of the stage to guide her. Her handicap was totally unnoticed by the audiences. Alonso should be the poster child for overcoming adversity.
Alonso danced twice in Russia in 1952 and produced Giselle for the Paris Opera with herself in the title role the following year.
When Fidel Castro became dictator of Cuba in 1959 Alonso returned to her homeland and became director and ballerina of the National Ballet of Cuba, a position she holds to this day.
Alonso won the Decoration of Carlo Mendez de Cespdes (1947), Dance Magazine Award (1958), Médaille de la Ville de Paris and Prix Pavlova (1966).
Alonso died in her native Havana on 17 October 2019 at the age of 98.
(first published May 1999)