Plato Andros (1922-2008)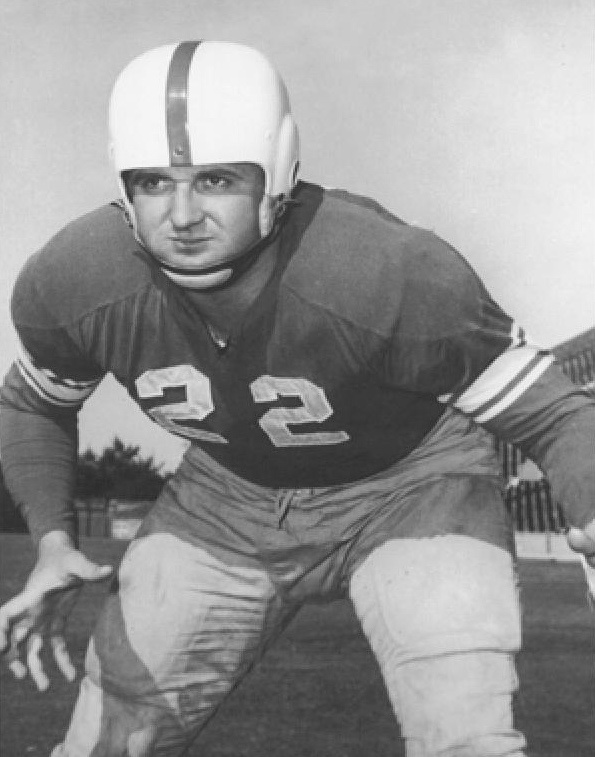 Sooner football legend Plato Andros died peacefully at Brookhaven Extensive Care in Norman on September 22, 2008. He was 86. Andros' college football career began in 1941 but was interrupted by World War II when he spent 4 years in the U.S. Coastguard. He returned with other veterans to play for coach Jim Tatum and his assistant, Bud Wilkinson in the 1946 season.. Andros, affectionately nicknamed by his teammates as "The Greek" and sometimes referred to in the media as "The Golden Greek," was the Sooner's 1946 All Conference All American Guard. An especially memorable game of the 1946 season was OU vs. top-ranked Army. Army hadn't lost a game in three years but OU's defense, led by Andros, held Heisman Trophy winner Glenn Davis to only 19 yards on 12 carries, his all-time low and zero points.
After the 1946 OU season, the 6', 240 lb. All American was drafted by the NFL Western Division's LA Rams and then traded to the Chicago Cardinals. He was the Cardinal's guard, nose guard and defensive tackle for four years (1947-50.) Along with other Chicago Cardinals greats such as Frank (Pop) Ivy, Charlie Trippi, Pat Harder and Elmer Angsman, he was on the Cardinals' 1947 NFL championship team when they defeated the Eastern Division's Philadelphia Eagles for the world title. In 1948, he was one of 6 Cardinal players who were 2-way starters; in 1950, he was the only 2-way starter. In 1949, he was selected to play in the All-National Football League team. Unfortunately, he suffered a serious back injury in the 9th game of the 1950 season that forced him to retire from football.
Most recently, he was listed among the top ranking all-time OU players in the The Oklahoman's "100 Best in OU History" 2007 article. The article describes Andros as, "First fighting the Nazis, then Jim Tatum's foes." In 1988, he was recognized for his outstanding lifetime athletic achievement and awarded an honored position in the Hellenic Athletic Hall of Fame.
Plato was born in Oklahoma City on November 28, 1921, and was the oldest son of Harriet Roberts of Bolivar, Missouri and Gus Andros (nee Constantinos Andricoupolis) who emigrated from Corinth, Greece in 1905 at the age of 18. Plato graduated from Central High School in Oklahoma City in 1940. His high school athletic accomplishments included All-State Football, State Champion Shot Put and Discus and Runner-Up State Wrestling.
During pro football's off-season and summers thereafter, he continued pursuing his college degrees; a B.A. in Physical Education and Biology from OCU and Graduate Studies in Education from OU. From 1951 to 1954, he served as a Biology teacher and Head Football Coach for Central High School in Oklahoma City. In 1955, he launched a new career in the oil business that culminated in 20 years with the Western Oil Company. During his post football years, he turned to two of his favorite hobbies with a passion - golf and hunting. His home was filled not only with football trophies, but also with numerous ones for winning golf tournaments and bird dog field trials.
Plato's two younger brothers, Dee and Dick, were also successful and distinguished in their chosen fields. Dee served in the Marines in WWII, earning the Bronze Star. He was stationed at Iwo Jima and witnessed the famous moment when six marines raised the American flag. He played football for OU in the late 1940s and was an assistant coach to Bud Wilkinson before he moved on to coach at Kansas, Texas Tech, Nebraska, California, Illinois and Idaho. In 1965, he settled in Corvallis, Oregon where he was Oregon State University's Head Football Coach until 1975 when he became Athletic Director. Until his death in 2003, he was active in fundraising for the school's athletic department.
Dick achieved success as a professional ballet dancer, choreographer, teacher and writer. He danced with the San Francisco Ballet, choreographed for national TV and off-broadway shows, and taught at the New York School of Ballet for 11 years. He continues to teach at Ballet Academy East in New York City where he has taught for the past 25 years. He is also well-respected as the preeminent authority of ballet history as he maintains a website used by universities and dance academies called "Andros on Ballet."
Plato married Florine Evans on August 2, 1947. They lived in Oklahoma City, El Reno, and Cushing before finally settling in Norman. Florine died in 2000 and Plato's brother, Dee, died in 2003. Of his immediate family, he is survived by his brother, Dick Andros of New York City; children Linda Andros, her husband Bill Avery and 2 sons, Byron and Jonathan of New Canaan, Connecticut and Vincent, his wife Barbara and 2 daughters Ashley and Amber of Norman. He was especially close to his cousins, sisters Evelyn Paul and Katie Deal, who both reside in Oklahoma City. A celebration of his life will be held at the Rose Hill Sanctuary in Oklahoma City on September 25. In lieu of flowers, the family asks that donations in his name be sent to the Alzheimer's Association at www.alz.org.