Dick Andros (1926 - 2009)
Sometimes when I am sitting in my chair teaching my ballet classes, I have to fight off the depression. Because of age and arthritis I can no longer demonstrate the combinations that I used to do with ease. I would love to get up and show the class what I used to do, but even if the mind is willing, the body, unfortunately, just refuses to cooperate. I know in my heart that not only could I execute the movement, but better than most. I think at the present time I'm one of the oldest male ballet teachers in New York City, but when I compare myself to my peers, I think I'm better off than many.
It seems to me that I have always wanted to dance, although I knew nothing about it. My mother had a phonograph machine that had to be wound by hand, and when I was about six years old I would play her old hard "78" disks, then dance around the room until I was dizzy.
After I saw Fred Astaire and Ginger Rodgers on film I tried to emulate them, maybe not so well, but I loved the movement. One Christmas my Aunt Oma gave my brother Dee and me tap dance lessons as a gift. I don't know if she thought that we could learn in six lessons, but that is all we got. I will say that I learned the steps faster than Dee, but he had better rhythm. After the six tap lessons, dance was put on the back burner until our aunt became interested in ballroom dancing. She studied at Kotche's School of Ballroom Dancing and it wasn't long until we were given lessons. Dee and I were the youngest in a class of adults. The ladies were not fond of dancing with us, but as we began to improve, we would be chosen by the same women who had shunned us six months earlier. I was just tall enough to bury my head in their bosoms.
As time went by I became fascinated with the more showy dances (jitterbug, rumba, etc.), while Dee concentrated on slow dances. In high school we both were in demand at school dances -- I would enter and win jitterbug contests. I could throw my partners around and over my shoulders, but at the school dances this was not allowed.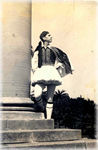 Aunt Oma also sponsored my cousins Evelyn and Katie. When the movie The Great Waltz was showing at the movie house they had a waltz contest; Katie and her partner won second place. There was never a doubt that they should have won first. Evelyn went on to study modern dance and danced the lead in a ballet called The Juggler of Notre Dame. Katie, like me, wanted the more showy kind of dance and she studied ballet.
I was still trying to be Fred Astaire when my aunt took Evelyn, Katie, and me to see the Ballet Russe de Monte Carlo. I immediately had a new hero in my life. It was Frederic Franklin, the leading male dancer of the Ballet Russe. The very next day I called Katie's ballet teacher, but she wouldn't take me because I was a fat boy of 15, weighing almost 225 pounds. Oh well! I could still be the best ballroom dancer in school. Later I decided I didn't want to be fat and dieted until I weighed 150 pounds.
When I was in the first grade I had a serious illness that kept me out of school for weeks. In the second grade I had scarlet fever, which left my hearing impaired. There are still some sounds I can't hear. My speech began to suffer, so my mother sent me to an elocution teacher. I remember the lessons cost fifty cents. Later she sent me to Mary Gray Thompson, a very advanced teacher. She did wonders for me. I lost most of my Southern accent, but unfortunately I still couldn't pronounce certain words unless I saw them written -- this is still true. Because of Mary Gray, I became interested in being an actor, since I couldn't be a dancer. I worked very hard for her and entered many speech contests; and in my senior year in high school I won first place in the State of Oklahoma. When I went to the University of Oklahoma I flipped a coin to see if I would major in theater or art, another interest of mine. The coin landed heads up and I became an art major.
World War II changed all our lives. When Mr. Kotche was called to serve in the army, Aunt Oma took over his school and she made Evelyn the teacher. The school was located at a building on the spot where the Federal Murrah Building would later be built (this is where the bomb was exploded in 1995). As a regular, I acted as the maintenance man and kept the studio clean. Eventually my aunt moved the school again, but made sure the school kept going until Mr. Kotche returned from the service.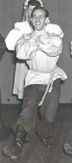 When I was a student at Oklahoma City University, I taught private lessons for Mr. Kotche to help pay my tuition. It wasn't long before I was also called to serve in the US Army. After basic training I was sent to Japan and assigned to General Douglas MacArthur's Headquarters Company, GHQ. I worked in special service, at Club Icihban, the largest enlisted men's club in the Pacific Theatre. In the evening I would teach ballroom classes using what I learned from Mr. Kotche.
After a year at the club I became the director. Barbara MacBride, a USO entertainer, asked me if she could use the ballroom during the day to work out her ballet routines. I said yes, if I could participate. She was surprised by how agile I was and how quickly I could learn movement. She suggested that we work as partners and perform for the GIs. I loved performing and it only made me want to dance even more. We were a great success in the club and my fellow GIs were very supportive.
When my time in the service was coming to an end, Barbara encouraged me to study ballet in San Francisco, her hometown. My mother wasn't too happy with me studying dance instead of going back to college, but she didn't stop me. So the day my discharge arrived, I was on a Greyhound bus to San Francisco. I arrived Friday afternoon and called Barbara's teacher, Madelyne Greene, who invited me to her class that night. It was my first formal ballet class. By the next Tuesday Madelyne asked me to join her company, The Festival Workshop. The following Saturday I did my first performance for her. To help me with this endeavor Madelyne was my partner, and I remained her partner until I left San Francisco.
I got a job at the Southern Pacific Railroad to pay the rent. This allowed me to be available for The Festival Workshop, which would give concerts up and down the coast of California. We were invited to be part of a dance performance in Los Angeles and Ruth St. Dennis was on the program, along with the Lester Horton Dance Group. Madelyne thought I should study at the San Francisco Ballet School to help me in performance, and under the GI Bill I was able to do so. I gave up my job with the Railroad and devoted my days to the ballet school and my nights to Madelyne.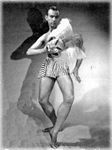 Because of my agile body and the facility with which I could learn movement, within six months, I was asked to join the San Francisco Ballet Company as an apprentice in 1948, making my debut in Coppélia. I was still performing with The Festival Workshop. I learned many dances from other countries and became an expert in Scottish and Greek dances. I was very happy at this time and fell in love with the city of San Francisco, but there wasn't enough dancing work to pay the rent.
I finally was offered a ride to New York City for free -- an offer too good to pass up. With a hundred dollars in my pocket, I set off for New York with my friend Fred. We shared the driving as we drove down the coast to connect with highway "66." I didn't know at the time that we were driving on a highway that would become famous in song and on television. When we got to Chicago I had the pleasure of taking classes with Bentley Stone and Walter Camryn. They both asked me to stay and be part of their company, but I was hell bent on getting to New York City.
Before I left San Francisco, Walt Disney produced the full-length cartoon Cinderella. One of the characters was a fat little mouse called "Gus Gus." From then on, everyone in the San Francisco Ballet Company called me "Gus Gus." So when I arrived in New York City I introduced myself as Dick, my middle name.
My first night in New York I spent at Fred's mother's house, but the next day I made contact with Eddie Greene (no relation to Madelyne), also a dancer from San Francisco. He invited me to stay with his family until I found a place of my own, which was a room on West 95th street. I could walk to Carnegie Hall to study at Ballet Arts Studio "61," the largest ballet school in New York with the greatest teachers in the world -- Vera Nemchinova, Edward Caton, Antony Tudor, Margaret Craske, Mia Slavinska, Sonia Wojcikowska, and Yeichi Nimura.
Again using the GI Bill, I joined the American Theatre Wing, allowing me to study tap with Ernest Carlos, primitive with Katherine Dunham, Hindu with Hadassa (who called me the blond Watutsi), Spanish with Aida Alvarez and modern with Hanya Holm.
Finding work in the theater wasn't as easy as I expected, given my experience in San Francisco. It seems to me that I went to five or six auditions a week. I felt that I was better than those chosen. But my height was always against me -- I was 6'1''. At an audition for the "Club Lido" in Paris I had to audition in my dance belt. I didn't get the job because my chest was too hairy (strange but true).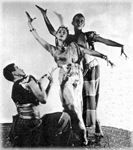 I did get some small jobs that helped keep me afloat, but I was getting very discouraged. I wasn't getting any younger and age plays a big part in dancing. I did a couple of industrial shows and worked in night clubs and television with a partner (under the name of Ric and Meta) and also with the Marian Lawrence Trio. Mateo, a well-known Spanish dancer, had to back out of a contract and he suggested that I take his place. I was to be one boy with twelve girls at the Beverly Hills Country Club.
On my return to New York I met a friend on the street who said they were holding an audition that afternoon for the Pittsburgh Civic Light Opera. I attended and got the job. While there I did shows with Patrice Munsel, Don Ameche, Jeannette McDonald, Maria Tallchief, André Eglevsky, Gene Lockhart, Jack Cassidy and many more. I was there for two seasons.
After Pittsburgh, I was getting tired of barely making it and thought I wanted to teach. A friend found a space in Greenwich Village and financed the school for me. I called the school "The Greenwich Village Studio of Dance;" it was located on 6th Avenue between 4th Street and Washington Place. Once I opened my school I suddenly started to get more work dancing: Eve Gentry; Irene Hawthorne's Company; and Romola James from Chicago asked me to dance the role of the father of Kenneth Johnson in her ballet Unmatched Gloves -- a very disturbing ballet at the time. It was about a high-society boy in love with a black girl. I later took the part of the society boy. I enjoyed dancing this part although the couple didn't live happily ever after. People in the audience would cry almost every night because an interracial couple was not socially acceptable. I felt I was on my way, and because of this connection, Romola and I organized Dance Originals. We did a number of performances in Greenwich Village, and I choreographed many of the ballets.
One night a stage director who had just directed Veronica Lake was in the audience and asked me to choreograph an Off-Broadway musical, What's Up. This was long before man went to the moon, but that was the plot. It was the first Actor's Equity Off-Broadway Musical. It didn't meet with any great success, but I learned a lot about how to deal with producers and directors. It was through working on this production that Veronica Lake started studying with me.
From these performances the New York Ballet Club sponsored a ballet of mine, The Enchanted Mask. The ballerina's husband died the week we were to open and I had to replace her in a very short time. The new girl did a herculean job, learning a part that had her on stage for twenty minutes. Unfortunately she never had time to learn dramatically what the ballet was about. Also, the electricians missed many special effects cues and the ballet fell flat. Having three bad reviews in a row is death in the theater.
To make ends meet I took a summer job working at an arts camp as the dance teacher, but when the drama teacher dropped out I took on double duty and taught and directed the shows. Again a great learning experience. That was the beginning of many camp jobs. I did this every summer for eleven years: one in Nyack, six on Cape Cod, three in Lake Placid and one in Bucks County. Each job brought me in contact with many artists of different disciplines.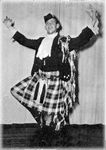 In the meantime I gave up my school in the Village because I got a job dancing in Spain. After I booked passage on the Ile de France I broke my foot and had to cancel the trip. With a broken foot and my stupidity I started back to dance too soon. My first day back in class I tore a tendon in my ankle that has left me crippled. I had to get a regular job until I could start teaching dance again. The first teaching position was in the Bronx. I was there for seven years and also at Dance Players on Sixth Avenue, a block from the Radio City Music Hall.
While teaching in the summer camps one of my students danced a routine of mine for her uncle, a stage director. He contacted me and it started an eleven-year partnership. It seems to me that I choreographed shows all over the Metropolitan area and New Jersey. We would average at least three or four shows a year.
One day in Madame Nemchinova's ballet class I met Rhea Harvey, who was selling her school in Brooklyn. I was choreographing a show in the area and asked if I could check out her school. On inspection I fell in love with the school. I bought it and stayed for fourteen years. I started a small company using my advanced students. We performed for many private clubs, New York University, and also with the Doctor's Orchestra.
Trying to keep the company performing became more of a chore than I was willing to do. Getting money, bookings, and rehearsals coordinated began to take the pleasure out of a job for which I was receiving no financial compensation. I had to settle for an annual recital. I would choreograph, make the costumes and build the sets, with help from friends who would work without pay.
The beautiful Brooklyn neighborhood in time went from upper middle class to almost a slum and students were afraid to come out at night. I had no choice but to put the school up for sale and at the same time I placed an ad in Dance Magazine for "position wanted." I got many responses from the ad, but none interested me except an offer from Israel. When they offered me a free trip to audition in Israel, I jumped at the chance. I went to Israel during the Yom Kippur War (1973). I was impressed that the men would come from the front lines of battle to take class. It wasn't unusual to see a machine gun and combat boots in the dressing room. When they offered me a contract I gladly accepted it, but I had to come back to Brooklyn to close my school. In a month I was back in Israel with the Bat Dor Dance Company, as a ballet master and the assistant director. Although it wasn't the happiest year of my life, it did change my future.
Jeannette Ordman was the director and her "special" friend, the Baroness Bathsheva de Rothschild, was the producer and the money behind the company. Jeannette and I didn't see eye to eye on anything. The Bat Dor Company went on tour and we danced at the Edinburgh Festival and at the Sadler's Wells Theatre. I managed to stay my contract, but not one minute more. When I was ready to return to the United States I didn't have a job or any plans for the future. I wrote my friend Richard Thomas to let him know I was coming back to New York and didn't have any prospects for work. I asked him to keep me in mind should he hear of a teaching position.
As it worked out, Richard was starting his own ballet company, U.S. Terpsichore. While he was busy with rehearsals he asked me to teach his classes. I was met with great success and when an opening for a teacher came along -- within a week -- Richard hired me. I taught ballet and tap at the New York School of Ballet at 82nd and Broadway. With me as the teacher Richard and his wife Barbara Fallis decided to take a vacation. They were gone for eight weeks and by the time they returned I had established myself as a very popular teacher. I was there for eleven years, teaching adults and serving as the director of the children's division.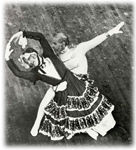 Many story ballets have character parts usually done by some young dancer made up to look old. U.S. Terpsichore hired me and David Vaughn as senior artists; at that time we were in our fifties. I danced Rothbart in Swan Lake, the Duke in Giselle and the General in Graduation Ball. David Vaughn and I were pictured in a cocktail-table book, In Performance by Nancy Reynolds, as the definitive couple in Graduation Ball.
While I was at the New York School of Ballet I was also hired to teach the sophomore and senior ballet classes at the New York City High School of the Performing Arts. But like my arguing with Jeannette Ordman when I was with the Bat Dor Company, I fought regularly with Lydia Joel, the head of the department. I was beginning to think I couldn't work with a woman as my boss, but a year later I was working for Collette Wolff and we got along great. Nansi Clement, director of the children's division at the Harkness Dance Center, hired me to teach the advanced class. Nansi and I are still great friends. So I realized that if the boss knew what they were doing I could get along with them, male or female.
While the High School was rehearsing for the Spring Concert, I met Francis Patrelle, who suggested I apply for a position at the Usdan Center for the Performing Arts, another summer arts camp. I spent nine summers at Usdan.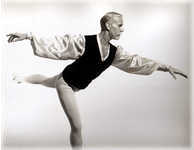 In 1985, Stanley Zabar, the landlord of the building that housed the New York School of Ballet, evicted the school. My class was on television news because I taught the last class where George Balanchine had taught the first. I also taught a class on Broadway in front of the Zabar's store. One of my students made the front page of the Daily News. Suddenly every news agency, local TV station and newspaper took on our fight. We did not win.
We closed the New York School of Ballet on a Friday and I was teaching at Steps on Broadway and Ballet Academy East the next Monday. I also taught ballet at the "92nd Street Y" where Ilona Copen was the director. She also asked me to teach the contestants for the New York International Ballet Competition. Ilona and Igor Youskevitch were the originators of the competition.
I Must Have Done Something Right
Thank you for all that you've been to me, you see in me what no one else can, you bring me joy when I' m feeling badly. When I am wrong you show me what is right. You give me answers when I don't know 'why,' you are the reason I have made it this far & mere words could never ever express my gratitude to you. Thank you for never giving up on me and being my true friend through some sticky times. I love you Mr. A. and I'm so happy you are in my life. THANK YOU.
Kat Wildish
Premier teacher at Broadway Dance
Dick Andros, whose commanding presence, knowledge, attention to details, great warmth, and puckish sense of humor make him an excellent teacher.
New York Magazine
Dick stresses dancing: he gives combinations that require technical precision without becoming binding and restrictive; he encourages freedom of movement and performing values without sacrificing technique.
Sally Bowden, Theatre/Dance Association
Dick's classes are a special combination of technique, style, theatrical anecdotes and good old-fashioned common sense. His rare qualities of knowledge, experience, enthusiasm, and sense of humor infuse his classes with just the right professional atmosphere.
Cynthia Gregory, Prima Ballerina, American Ballet Theatre
Mr. Andros has a great deal of knowledge in ballet and all types of dance and is extremely respected in the dance world. He has been very supportive to my ballet career over the years.
Sean Lavery, principal dancer and Assistant to the Ballet Master in Chief of the New York City Ballet
Speaking as a performer, choreographer, and teacher of contemporary dance and an occasional student of classical ballet, I consider Dick Andros a unique phenomenon among teachers of ballet. Implicit in his classes are a sense of caring, as well as a firm understanding of a concisely expressed system of ballet instruction.
Peter Sparling, Principal dancer of the Martha Graham Dance Company
Thank you for all your years of giving your friendship and mentoring means more than you know.
Francis Patrelle, Artistic director of Danes Patrelle
For over twenty years I have known Dick Andros as a demanding teacher, a helpful and supportive connection in the dance world, and a faithful friend. I have often said that this 'Teacher of Distinction', Dick Andros, was New York's best kept secret. I'm happy to know that, with the establishment of the Andros on Ballet website, the secret is out and many more people will be able to benefit from this teacher's knowledge and experience.
Christopher Flory - Dancer, Teacher & Choreographer
To Dick Andros,
A Handsome man with beauty as his constant companion. A teacher with the gruff exterior of a bear but the sweet gentle heart of a fawn, male.
Dr. John Fares
Taking class with Mr. Andros is a truly enlightening experience. In his teaching he offers deep knowledge of ballet and insight into the art that he transfers in a enthusiastic and personal manner. And all that you learn is correct, as you can be reassured from this excellent website.
Dr. Magdalena Eriksson, Gothenburg, Sweden
Thank you for extending your professional helping hand to the Fedichiva Ballet Center.
Kaleria Fedichiva, Prima Ballerina of the Kirov Ballet
I would like to take this opportunity to thank you for everything. You are the only dance teacher who ever paid any attention to me, the only one that made me feel that I had a chance...You deserve the best because you are the best.
Julie Pasqual, Class of 1979
You continue to educate me for more years than I deserve. You continue to be a force in my life.
Carole Campolo, student in Brooklyn from 1960 to 1973
Although I no longer dance, the discipline and perfectionistic execution of any challenged endeavor which you taught me still shines through and makes me very marketable in corporate America.
Judy Blaylock, Class of 1979
...At this point Mr. Andros left refusing to do the ballet. After many arguments and more rehearsals we performed the ballet which was said to be the best one the school had produced in years. This episode meant a great deal to me. To know that Mr. Andros would actually give up his job for the sake of a group of students who were not exactly angels was something very special to me. Knowing that someone outside of our families honestly cared that much seemed to me extraordinary. Mr. Andros is someone that I will never forget and will always love because he taught me something that no other teacher has even come close to teaching me.
Diane Walker, Class of 1977
I have been teaching at the High School of Performing Arts for the past six years and have observed and taught a number of Mr. Andros' students at the school. Without question they have been consistently among our best trained and most responsive students.
Penny Frank, modern dance teacher
Mr. Andros has brought to his work a unique combination of high artistic standards, devotion to his students and personal integrity, which make his service invaluable to our school.
Dale Lewis, Director of the Usdan Center of the Performing Arts
I also want to thank you, Mr. Andros, for your wonderful, well put together classes. And though you may not believe it, you helped me to gain back a lot of the confidence I had lost in myself.
Kathryn Lawrence, The Ontario Ballet
You opened my eyes to the beauty of dance and the wonderful music that accompanies it... [At your school] We were truly a family with you at the head... One of the most important things you taught me was the value of practicing long and hard to achieve a goal...From you I learned that different is not bad, it is only different, and that people should be judged on their own merit not on the package they come in...
Barbara Silverman/Stambler, student in Brooklyn from 1960 to 1973
Although I haven't seen you in probably 15 years, you are often in my thoughts and dreams. You were such a major part of my growing up. And I wanted to thank you for being there for me during all those excruciating adolescent and teenage years. I consider myself lucky to have had you as my teacher and "surrogate father." Of course, I learned more than just dancing from you. But, don't worry, the dance training was first rate.
Suzanne (Seltzer) Knight